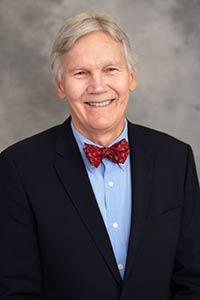 Friends of vision was founded by Dr. Michael Colvard in 1988. Over the past 35 years, the foundation's mission is to help eliminate reversible blindness both locally and in underdeveloped countries, as well as to provide food, clothing, and educational supplies to orphaned, disabled and underprivileged children around the globe.
Dr. Michael Colvard has been active in clinical practice, a leader in clinical research, and a teacher of cataract surgery to resident physicians at USC and UCLA-affiliated hospitals for over thirty-five years.  He is a frequent lecturer at courses for post-graduate eye surgeons both nationally and internationally and serves as a Clinical Professor of Ophthalmology on the volunteer faculty of Jules Stein Eye Institute, UCLA School of Medicine, and as a consultant with Cedars Sinai Valley Health Services.
He has received numerous professional honors and recognitions including the American Academy of Ophthalmology "Honor Award" and "Senior Achievement Award" for contributions to post-graduate educational programs, the USC Eye Institute Outstanding Faculty Teaching Award for involvement in resident training, the Doheny UCLA Eye Institute Distinguished Alumnus Award and the SEE International- Humanitarian of the Year Award.
In addition to his work in Africa as a volunteer eye surgeon for the past 35 years, Dr. Colvard has designed surgical instruments for use in low-income countries that help to provide improved visual outcomes and a reduced need for glasses postoperatively.